The Cordillera Occidental is home to Sajama, Bolivia's highest peak. It and other nearby peaks provide easy to moderate climbing on classic volcanoes. To the south along the Chile border are plenty of other peaks, including many volcanoes. The majority are trekking peaks with a few prominent ones covered in the Southern Cordillera Occidental page.
Access
The town of Sajama is the gateway to most of the peaks. Regular public transport to the town from La Paz is scarce but if you don't mind walking from the main road to the Chile border there are daily buses heading for Arica from La Paz – inquire at the main La Paz bus terminal. From the town it is possible to hire local transport from a number of hostels to get closer to the access tracks – or walk if you have time.
There are some guides available for climbing duties based in the town.
There is a small entry fee for the national park that is paid at the town entrance.
Theoretically you can't climb Sajama over the rainy season according to some park literature but at least in 2012 no one seemed to mind if you did. However the conditions are generally poor. May – July seem the best months with August/ September being windy and cold.
For the southern Cordillera Occidental the access point is Uyuni on the edge of the Salar de Uyuni.
Accommodation
There are a number of hostels in Sajama offering basic lodging and food. There are also several small shops with a limited array of products for sale. Hostal Sajama (www.hostalsajama.com  ph 71509185 or 73591277   e mail : eliseosajama@hotmail.com) is probably the best of the accommodation options and can arrange transport to the mountains.
Uyuni has plenty of accommodation and services.
Maps
Guzman has a Sajama map (without Pomerata and Parinacota). IGM Cerro Quisi Quisini 3034 is a 1:100000 map that includes Pomerata and Parinacota.
Sajama 6542m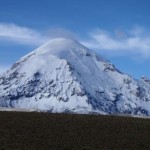 Pomerata 6222m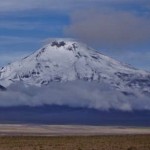 Parinacota 6348m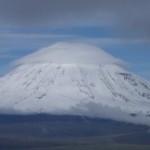 Acotango 6052m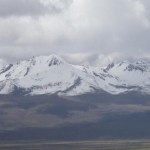 Southern Cordillera Occidental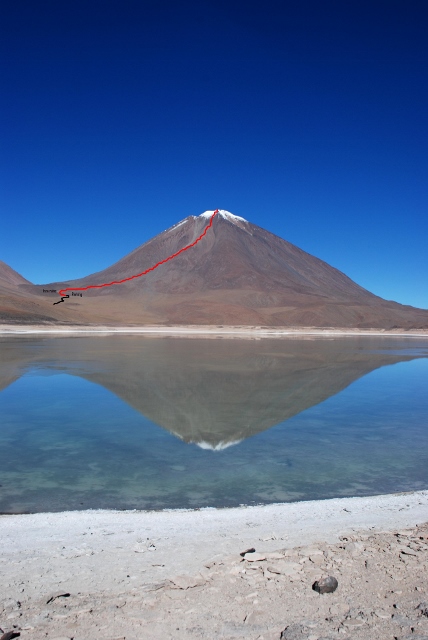 Sajama Area Map