Huayna Potosi is a complex mountain with a number of sub peaks. Access to the eastern side is very easy from the road over the Zongo pass. Refugios close to the pass offer basic accommodation, food and guiding services – see the Huayna Potosi Area page for details. There are also several high refugios on the normal route, the most prominent being at the high camp and the new Casa de Guias up the rocky ridge from high camp.
The western side is more remote but still easily accessible via the road from Mulluni to Tuni, which crosses 2 high passes. There is a camp in the valley below the pass (Campamento Maria Lloco, 20bs per person) or get dropped off at the 2nd pass and follow an aqueduct up valley. From the Campamento Maria lloco it is possible to drive close to the glacier under the west face via a private road – pay 50bs per vehicle at the campamento and they'll open the gate for you.
Huayna Potosi Eastern Aspect Overview
1  Route to high camp
2  Normal Route   AD-         R Dienst, O Lohse  1919
3  South Ridge     AD+
4  French Route   AD+        T Cardon, A Mesili  1974
An alternative finish for the normal route is:
5     East Face variation     AD-
The SE ridge, the next ridge north from the high camp ridge, was climbed in May 1973 by A Daly, N Gillette & J Miller.
Pico Mesili (5596m)
6  Mesili Route   TD     A Mesili   May 1978
Normal Route Finish from the NW
South Summit Routes
1  French route                    AD+     T Cardon, A Mesili  1974
2  La Vantanita de La Paz   D+        V Rimac      Dec 2012
3  Bordas-Muñoz                 AD+     E González, J Hevia, E Rey, J Vázquez    1990
4  South Ridge                     AD       P Barker, F Hendel   1963
Note: This is the left hand skyline in this picture and can be accessed by continuing to traverse from the normal route, below the French Route, or by climbing from the Milluni valley – see route 1 South Face, below.
The first ascent of the face may have been in May 1973 by A Daly, N Gillette & J Miller but their route is unknown.
Pico Mesili and North East Ridge
1  Bicophobia  TD+   L Réni, M Beneit, B Vincent    August 2010
North Ridge and NE side routes
1  Aspirante  AD+   R Gomez, E Unzueta, A von Ungern, S Rojas,J Señoret, J Condori  May 2016
North side routes
1  North East ridge upper section. See Pico Mesili and NE ridge route above for the starts.
2  North West ridge  AD+     H Ertl, G Shroeder   Aug 1972
3 North West face gully route   TD+   A Mesili, W Dorf, P Lafargue, H Doisnau    Sept 1979
North West and West Face Routes
1  Northwest Face           TD       A Mesili, W Dorf, P Lafargue, H Doisnau    1979
2  Laba-Hudson Route        D+       J Hudson, R Laba    1969
3  Yugoslav Route           D+       B Jereb, M Pogacar   1983
4  American Route           D-       D Harthorne, A Harvard, J Janney, T Thompson    1970
5  Primorska Route          ED    M Cernilogar, J Humar, S Sveticic, Z Trusnovec   1983
6  French Route             D        J Affanasief, M Affanasief        1978
7  Vía Del Triangulo        D-       H Haztler, A Mesili        1971
8  Argentinian Spanish Route D+      C Godó, H Godó, M Pagani, A Enriquez        1990
9  Minero Dynamite        D+      G Fuchs, D Osswald    July 2015
Note:  The Primorska Route climbed directly through the large ice cliff in the centre of the face, possible in the '80's but inadvisable now. Most of the West Face routes are probably a little harder in general now with less snow on the face than in the past.
South Face of Pk 5600
1  South West Ridge Route     D-
2  Baked                                   D+        A Baker, G Beisly      June  2011
3  Happy Meal          M4+         TD       J Stock, B Cusick      Aug  1999
4  The Wormhole    M4  WI4   TD        C Clarke, R Rauch, G Beisly   June 2014
5  Monasterio Route                D          E Monasterio, G Monasterio     1998
6  Normal Route                      AD
7  East ridge                            AD
Italian Peak/Pico Italia Aka Pico Italiano
East Side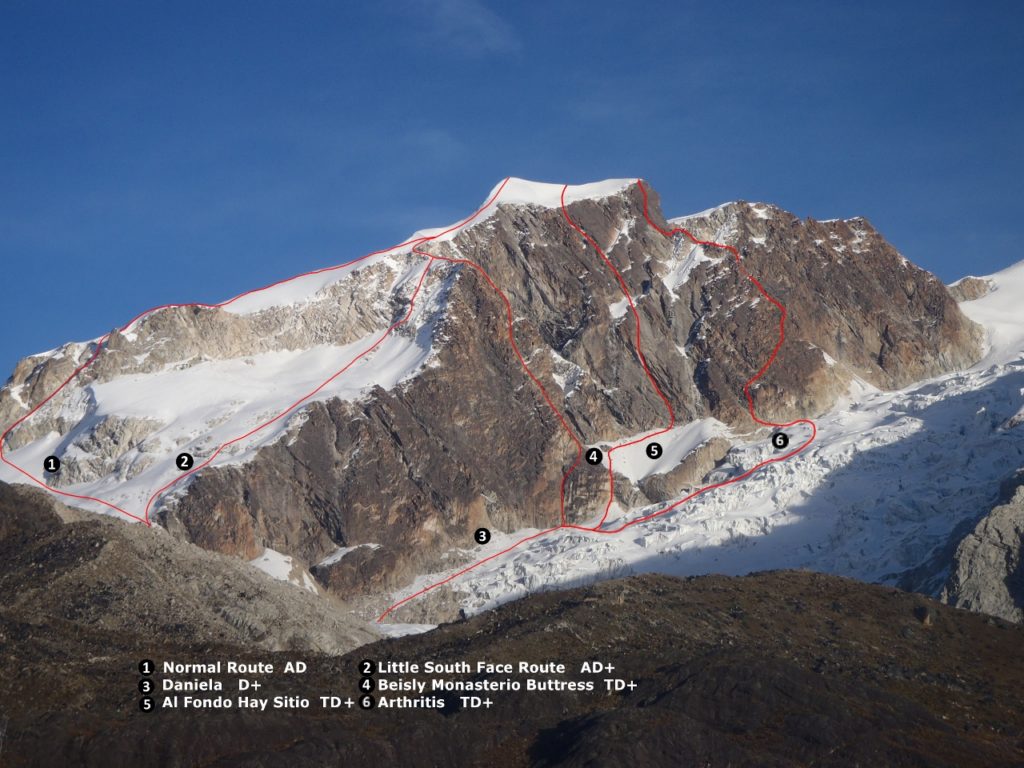 1   Normal Route        AD
2   Little South Face route             AD
3   Daniela          D+    J Churata and D Evitale  2010, climbs the rock to the snow field to the left of route 4, crossing a big gully and chimney to the snow. Exact line unknown.
4  Beisly-Monasterio Buttress  6b+  TD+        E Monasterio, G Beisly    2012
5  Al Fondo Hay Sitio  TD+   R Rauch, R Lobo   June 2016
6  Arthritis    6a+    TD+    E Monasterio, G Beisly   Aug 2013
A link up of note was the 2016 solo climb of Robert Rauch of Arthritis, carrying on to ascend the South Ridge of Huayna Potosi and descending the normal route in a day.
West Side of Pico Italia
1 Finland route       AD+      T Grönlund  June 2017
Map of Huayna Potosi Routes and Peaks
 

View Huayna Potosi Routes in a larger map