The northern region of the Cordillera Real has in the past attracted major expeditions seeking big mountain routes at high altitude. Illampu and Ancohuma are large complex peaks with long snow, ice and rock routes of a serious nature. Smaller mountains are plentiful and contain high quality routes on rock and ice.
Access
The picturesque town of Sorata is the main base for getting into the mountains. From Sorata a half day trip to the eastern side of the range gets you to Aguas Calientes to access the western side of Illampu, or Cocoyo to access the eastern aspect of Ancohuma and the Umajalanta area. Above Sorata the base camp at Laguna Glacier is easily accessed in a days walk for climbs on the western side of the range
From La Paz buses leave for Sorata from near the main cemetery which is above downtown La Paz.
Maps
The Guzman Illampu/Jankouma map covers the bulk of the area. The German alpine club Cordillera Real Nord is very useful and IGM Sorata 5846 I covers Illampu while Warizata 5846 II manages to missname Ancohuma as Illampu.
Illampu Area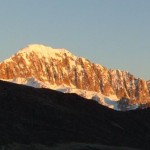 Ancohuma Area
Umajalanta Area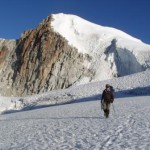 Northern Region Map

View Illampu and Ancohuma Area in a larger map