There is a lot of good climbing to be had on the peaks in this area.  Illampu and Pico del Norte have the longest, mainly snow and ice climbs, with some of the lower mountains having fantastic rock, particularly PK 24 and Emma Maria.
The southern aspects of Illampu, Schulze and Yacuma are accessed via Laguna Glacier, the western aspect of Illampu via Aguas Caleintes and the eastern aspect via Cocoyo.
Weather Forecast
Available at www.mountain-forecast.com/peaks/Illampu.
Illampu Overview from the South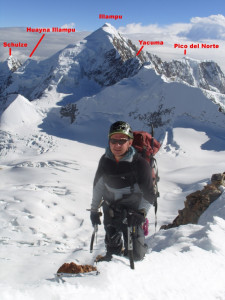 Illampu Overview from the East

A traverse from Esperanza to Illampu has been completed in 1990 by Heinz Enz and Peter Pruckner.
Pico Shulze  5943m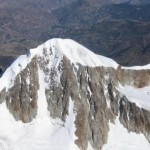 Huayna Illampu  6072m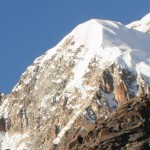 Illampu  6368m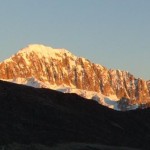 Pico Del Norte  6070m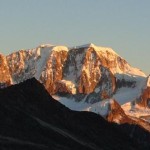 Esperanza 5716m & Gorra De Hielo 5700m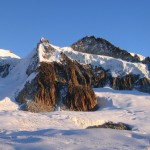 Emma María 5531m
PK 24  5432m