Ancohuma is a bulky mountain with numerous ridges, faces and buttresses. The West face routes are the most popular.
Northern and western aspect routes are gained from the Laguna Glacier basecamp, accessed from Sorata. The Eastern side is accessed from Laguna Negra via Cocoyo.
Northern Routes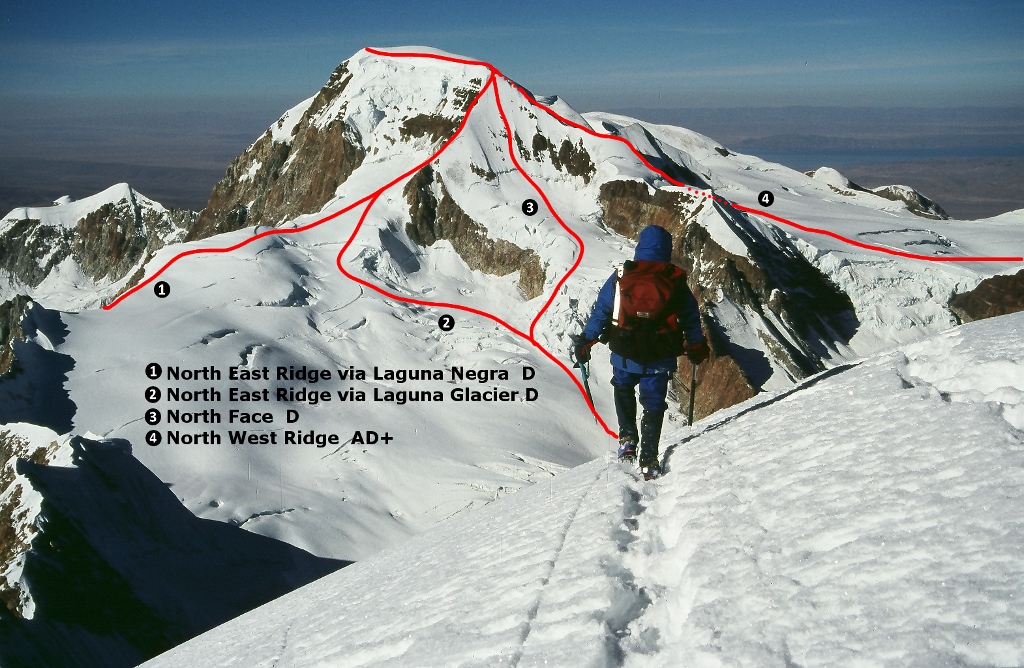 1   North East Ridge via Laguna Negra   D
2   North East Ridge via Laguna Glacier   D
3   North Face    D
4   North West Ridge           AD+
 Western Routes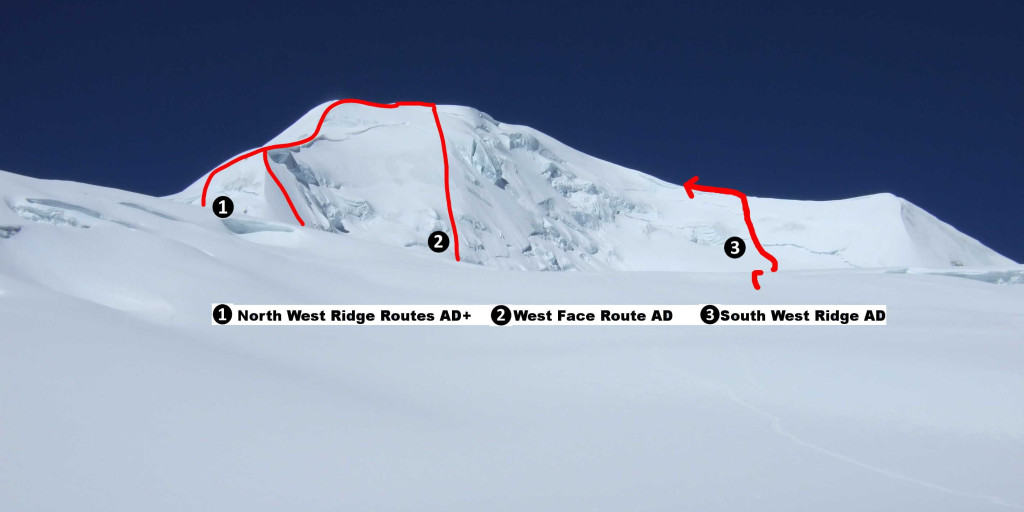 1   North West Ridge     AD+
2   West Face Route     AD
3   South West Ridge    AD
Western Pillars
The western 'Pillars' of Ancohuma rise to high points on the western side of the big Ancohuma glacier and are accessed by dropping down south west from the Laguna Glacier base camp.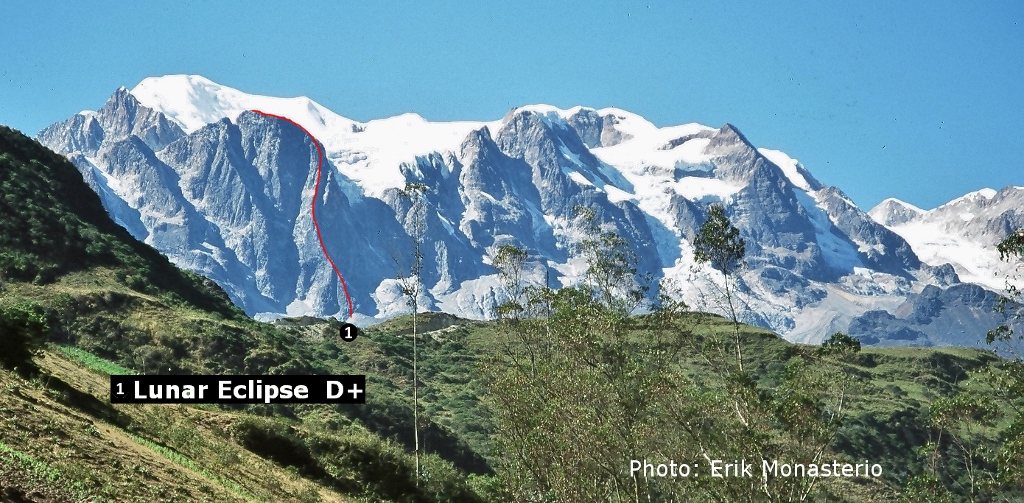 1  Lunar Eclipse   D+       R Rauch, H Enz   June 1991
Note: Lunar Eclipse finishes on Pt 5573. The top pitches include a fair amount of loose rock.
Ancohuma Overview from the east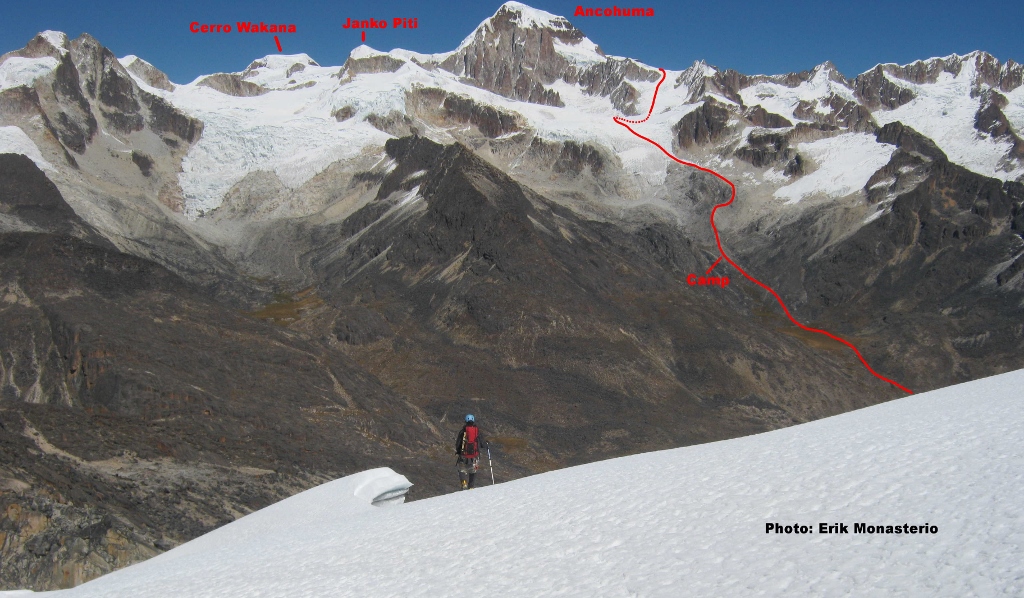 Route to access the eastern buttresses and the NE ridge shown.
Eastern Routes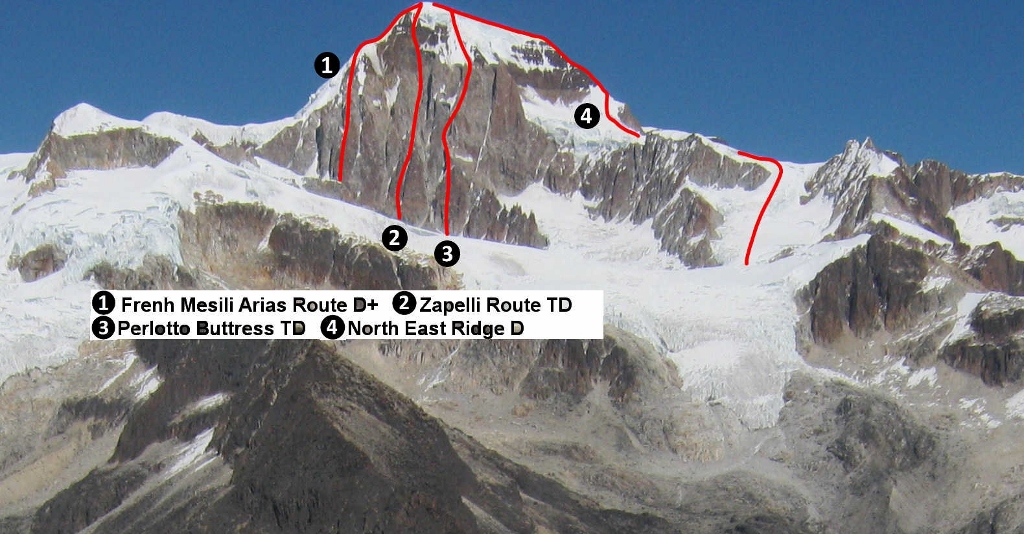 1   Mesili Arias Route    D+   R Arias, A Mesili,    Sept 1970
2   Italian Route             TD    A Gelmi, F Gugliatti, G La Franconi, C Zapelli    June 1978
3   Perlotto Buttress      TD   M Corte, M Clotti, A Da Polenza, G Fais, F Perlotta, G Salton, P Veccelios    May 1978
4   North East Ridge   D
South side Routes
South-Southeast Ridge     AD            27 June 1968 B Hagen, D Isles, G Iturralde, E Kafer, M Kafer