From the mining village at the Laguna Laram Khota access is easy to Gigante Grande and other peaks of the valley.
The mining camp guardian may offer a room for a small fee if asked. Otherwise a base camp can be set up at the other end of the laguna.
A good track follows the western side of the laguna to access the glacier or for the southwest face of Gigante Grande or the peaks south of it, a mining road from the village gets you very close.
Cerro Torre Jihuaña  5680m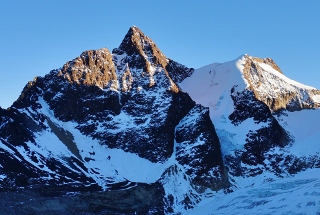 Gigante Grande  5748m