The Southern region of the Cordillera Real has the ranges most accessible 6000m peak and the highest in Huayna Potosi and Illimani respectively. Additionally there are a number of 5500m+ peaks which are worthwhile climbs, notably the impressive Tiquimani.
Access
Peaks in the Huayna Potosi area can be reached in a couple hours from down town La Paz via El Alto and the road to Zongo. The Hampaturi Group are equally easily accessed in similar time via the La Paz suburb of Alto Pampahasi, the road Avenida Ciudad del Niño and the village of Palcoma. Illimani is a little further away but half a day is sufficient to get to the walk ins via Palca.
Maps
The Guzman Huayna Potosi/Chacaltaya map covers the northern part of this area. His Choro/Takesi trekking map is useful for an overview of the whole southern area and is the only one that shows the Hampaturi group in any detail. IGM Milluni 5945 II (which has the mistake of calling Tiquimani Illampu) covers the northern part to La Cumbre. IGM Chojlla 6044 IV covers the Hampaturi group and Palca 6044 III most of Mururata and Illimani. The German alpine club map Cordillera Real Sud is the best one for Mururata and Illimani.
Huayna Potosi Area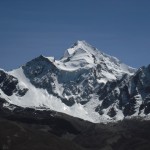 Hampaturi Group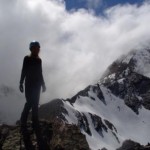 Illimani Area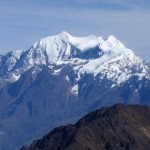 Map of Southern Area

View Southern Region of the Cordillera Real in a larger map