Access:  From El Alto minibuses leave when full from the corner of Avenida Juan Pablo II (the main road through to Copacabana and north) and Avenida Alfonso Ugarte (which most people call Chacaltaya). The trip is about 1 hour depending on traffic through El Alto. For the return journey wait at the village square and flag down anything with space that is heading to El Alto. If driving from La Paz at the top of the Autopista take the first right to gain the Avenida Juan Pablo II and stay on this. 15 minutes past the toll booths is a signed turn off on the right for Peñas which is another 5 minutes on.
In the central square of the village is the large Catholic church. The padre is an outdoors person and allows climbers to stay in accommodation off to the side of the church.
The area with the most climbs at Peñas is an easy 3 minute walk from the road. Just before arriving at the village proper when on your way from La Paz there is a school (Colegio Tupac Katari). Head up the valley on the La Paz side of the school and quickly arrive at the first crags – the tower and trackside wall.
There is a new website with more info that has recently started: http://rockclimbinginpenas.wordpress.com/escalada-en-penas/ 
Tower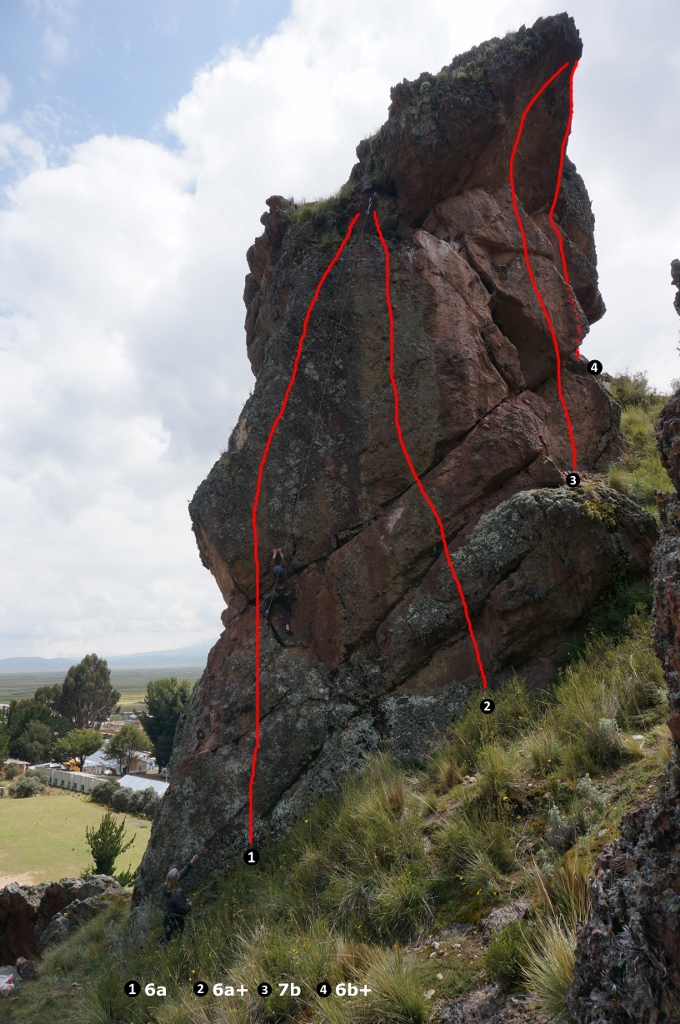 Little Wall
A small but steep wall between the tower and corner wall.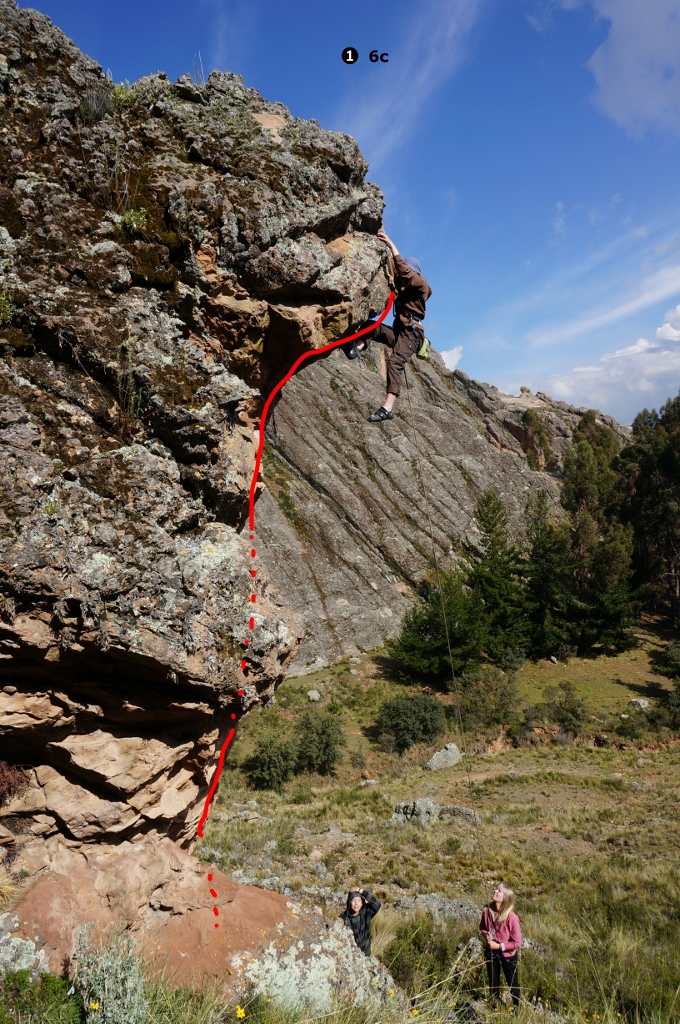 A harder 7a finish to the shown route goes directly up where the route above veers right – no top anchor.
Corner wall
Just above and on the left hand end of the trackside wall.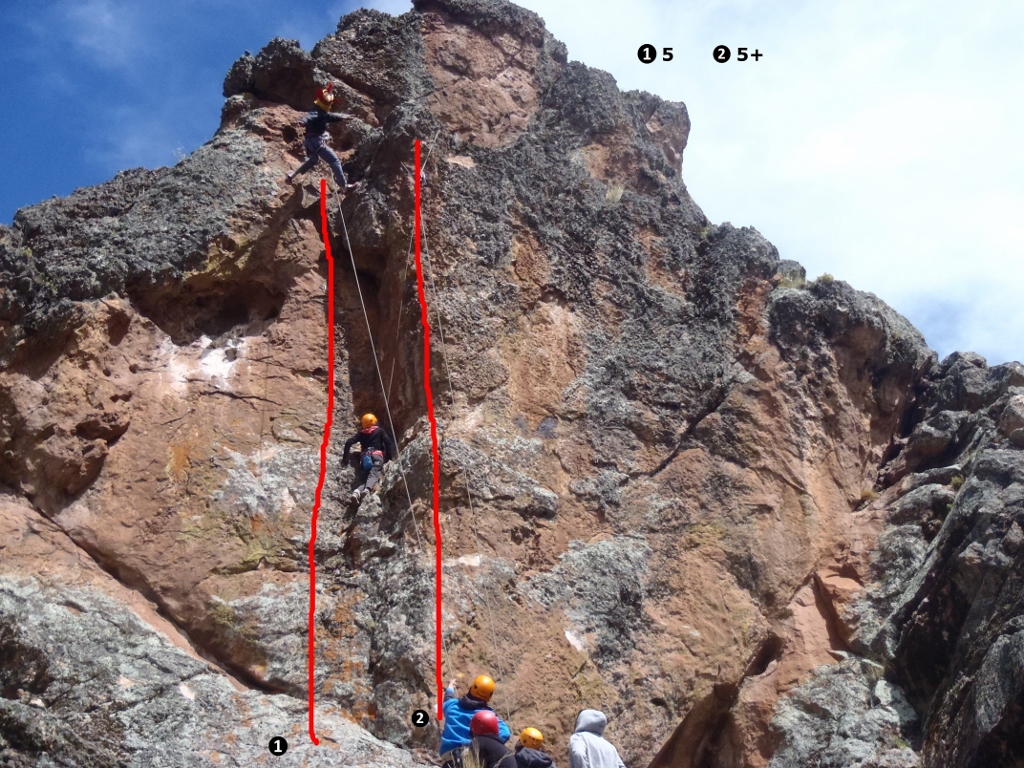 Trackside wall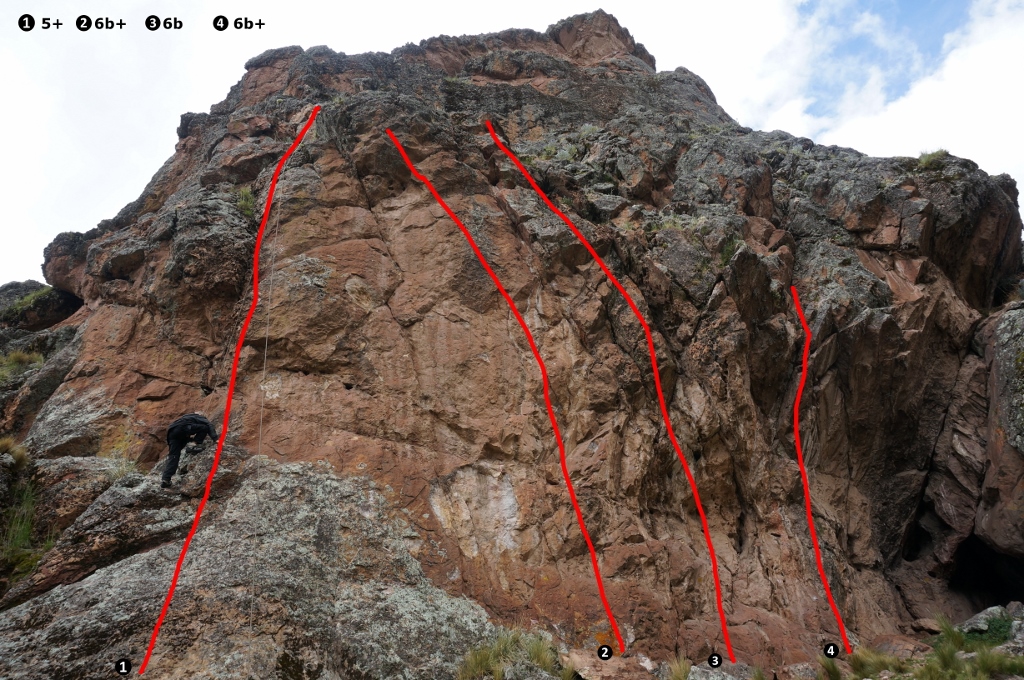 Other areas:  The small valley directly behind the village has 3 short routes.  Before arriving at Peñas you will pass over a hill. At the top of the hill is a sign over the road welcoming you to the village. There are large walls over farmland and up the hillside from here that have some climbing on. There is a fully equipped 4 pitch route, Proyecto Lunar 6a, on the cleanest slab.