The Cordillera Quimsa Cruz (3 crosses range) is an impressive range south of La Paz and across a very deep valley from Illimani.
The range can be divided into the rocky northern tip and the main part of the range stretching south with its peaks of snow and ice.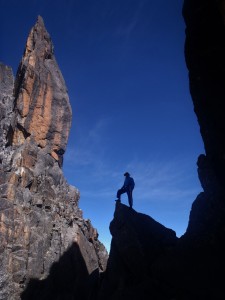 Access:
Although it is possible to get to the Quimsa Cruz via the valley below Illimani the roads are rough and often slip affected. The usual route is via the main road from El Alto to Oruro (Ruta Nacional 4), turning off at Konani and travelling towards the mining town of Quime. From this (sealed) road turn off to the north about 2 km past the small town of Caxata and follow the dirt road towards Viloco. After the turn off the road winds down into a valley and after which it climbs over a series of passes, with valleys in between. Each valley permits access to glaciers and peaks at their heads.
Public transport from La Paz or El Alto to Konani is available or take any Oruro bus and make sure they know to let you off at Konani. From Konani buses leave for Viloco, generally 1 a day mid morning (as of 2013). Get off at your desired valley or if going to the northern end, go to Viloco and walk from there or ask around in the town to see if a local will drive you.
To access the northern Quimsa Cruz go to Viloco, above which there are impressive looking peaks. The main area for climbing is gained by passing through Viloco and continuing for 15 minutes drive until the valley where Saturno and others are obvious high above the road. A short road on the right brings you to a group of miners accomodation with fields suitable for camping another 100m on. Ask for permission to camp from the guardian of the mining camp you just passed.
Maps
The IGM Mina Caracoles 6143 III covers from San Luis to Saturno. A map that comes with the guide book Travesía Quimsa Cruz covers the entire range in basic detail. The book is sometimes available in some La Paz bookstores.
Quimsa Cruz Access and Major Peaks

View Quimsa Cruz in a larger map