Chachacomani and Chearoco are impressive peaks surrounded by lesser and little visited mountains. Access is a little more difficult than for some Cordillera Real peaks but is improving. It is possible to get to base camps on the western side in a day from La Paz.
Eastern access:  Follow the road towards Peñas, turning right onto a dirt road just before the bridge when the road heads into the hills. Follow the dirt road until shortly after crossing the only significant bridge on the road where you turn right onto another rocky road. This road now leads all the way to Lloco Loconi, the small settlement near Cerro Jankho Laya via a slightly scary road high above Laguna Khara Khota.
To get to Chachacomani south face: from Lloco Lloconi head up the valley running NW to a pass, drop down and SW to Laguna Leche Khota, where there is camping. From here head up moraine NW of the Laguna for about 1 hour, then left to the col and glacier below the south face.
To get to Chearoco: from Lloco Lloconi a track heads NW, crosses a pass and descends to the Rio Waraco. Descend this valley to where it meets the Chiquini valley and then ascend this taking the left branch towards Chearoco, which is prominent at its head.
Western access: From La Paz pass through El Alto heading north on the main road to Copacabana and Lake Titicaca. Turn off right to Peñas and then right onto the dirt road once in the village. This takes you past Kerani to the village of Chachacomani. Carry straight on and turn right soon after crossing a bridge just out of the village. This road will take you all the way to Estancia Kelluani, the small group of farms at the road end.
Vehicles can be left at the house of Don Santos and Edson, the last house in the valley. They can arrange mules and guide parties to base camp and high camp. If you want mules you need to call Edson (73261732) ahead of time as they need to be brought up from a lower village.
From road end to base camp is about 3 hours walk. From base camp to high camp is another 2-3 hours.
Chachacomani and Chearoco from the South

Chachacomani 6074m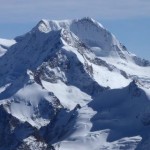 Chearoco 6127m